K9 Division
Our experienced and professional management, supervisory and training teams, ensure that we remain at the fore front of not only the scent detection industry but also in the protection and patrol dog disciplines. Our canine teams are dedicated professionals, who are constantly improving our benchmarks through continuous training and evaluation, setting extremely high standards of our teams in the field, where "adequate" and "average" is just not good enough.
We have expanded our operations to include Scent Detection, Tracking, Protection and security teams. We also train dogs in all these disciplines and provide trained dogs to our clients. We have developed a tactical product range (AfriGear – K9) and provide canine equipment essential to both the operational and training environment.
Afri Guard now also provides these services to the Aviation industry. Canine teams meet all regulations promulgated by the South African Civil Aviation Authority (CAA) in terms of Explosive Detection Dog Teams. We are also providing scent detection services to international clients and have numerous teams deployed on the continent.
The majority of our dogs are imported from Germany and the Czech Republic and are selected for their exceptional drive. Belgian Malinois, Dutch Herders and German Shepherds are some of the breeds currently utilized as scent detection dogs.
Our training methods are humane and the welfare of our dogs is one of our highest priorities. We are subject to regulation and comply with all NSPCA requirements and bylaws.
Our staff have international and national operational experience in all the security related canine disciplines, most having been deployed as DOD and UN contractors.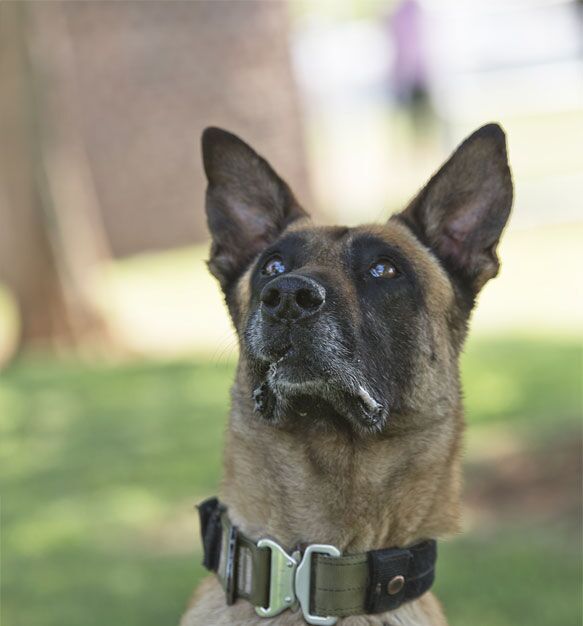 Narcotic Detection Dogs (NDD)
All our NDD's have been imprinted on the following substances:
Heroin
Cannabis
Crack Cocaine
Methamphetamines and their derivatives
Dogs are all trained to indicate passively. A 96% pass rate is also applicable and the same evaluation and certification standards apply for our NDD's as for our EDD's. Members of our training team have undergone training in the USA through EPIC and have years of operational experience in both SA and abroad. Our handlers are regularly subjected to voluntary illegal substance use tests and also undergo a compulsory bi-monthly polygraph test, to ensure our integrity is not compromised.
Explosive Detection Dogs (EDD)
All our EDD s have been imprinted on the following commercial, military and homemade substances. (Please note that this list is not exhaustive as attention must be paid to the core compounds):
TNT
Semtex
C4
PE4
Nitrates and chlorides
Detonating cords and PETN
Black powder, commercial propellants
Before deployment, the dogs are acclimatized and are conditioned in exactly the same environment they will work in when deployed. To further hone their skills both the dog and handler conduct searches in buildings, on aircraft, vehicles, luggage, open areas, packages and warehouses, sport stadiums etc. All our dogs are trained to indicate passively on explosives and we require a 96% pass rate before a team may be considered for deployment. Teams have to undergo annual re-certification and quarterly evaluations to ensure our standards are met.
Patrol Dogs (PD)
PD's can either be vehicle based or deployed with a handler on foot for security and response purposes. All these dogs work both on and off leash and are trained in following disciplines:
Obedience
Suspect apprehension and containment
Handler protection
Bush and Building clearance and searching
Negotiating obstacles and agility training
Our training staff are both nationally and internationally qualified in both the military and law enforcement environments and have practical experience in both.
Endangered Wildlife Contraband Detection Dogs (EWCDD)
Dogs are imprinted on scents, as per client requirements which may include the following;
Rhino Horn
Ivory
Abalone
Bush Meat
Firearms and ammunition
Our clients include national and international wildlife agencies and Parks Boards, where we provide scent detection services at road blocks and during anti-poaching operations. We also train dual purpose dogs which may include any of the above as well as tracking and suspect apprehension and containment. These teams greatly enhance the effectiveness of anti-poaching units.
Other applications for Scent Detection Dogs:
We also train scent detection dogs to whatever requirement the client may have and this may include:
Cell Phones
Copper, Gold and Platinum
Currency (Money)
Mine detection MDD
Cadaver
Every item has a unique scent. Dogs have more than 280 million receptors in the nasal area, ultimately giving a dog the acute scenting ability of between a thousand to ten thousand times greater than any human.
If you hide it, we will find it!
Tactical Dogs (TD)
All our TD's are dual purpose and have been trained in the following:
Advanced obedience
Tactical movement with dog on and off lead
Movement under fire
Building Penetration and Clearance
Crowd Management
Tracking, suspect apprehension and containment
Tactical training for anti-poaching teams
High level agility and obstacle negotiation training
All TD's and handlers undergo our tactical training course which includes Swat.
Personal Protection (PPD)
Dogs are trained to client requirements and this may include:
Advanced obedience training
Personal protection against Hi-jacking and the possibility of an attack
Protection work at residential, business premises, public areas etc.
Individual and family socialization
PPD's are firstly trained at our facility. The client is then brought in for adaption and training. Depending on the application, the family too. PPD's and clients are socialized and assessed and should additional training be required, this can be provided by training the PPD's and the client in their home environment.